YOUR TELEHEALTH CARE TEAM
What is Telehealth?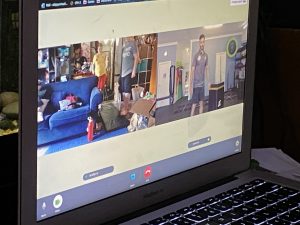 Telehealth is a new way of delivering your allied health service without you needing to attend our clinic.  Our clinic normally uses video technology via an app or browser such as internet explorer, chrome or safari on your smart phone, tablet or computer.   It is especially useful during times of increased health risk, such as COVID-19 or seasonal influenza, if you have a compromised immune system, are unable to travel, or are travelling away from home, or need to save time by not travelling to appointments.
Does it work for everyone?
Telehealth is excellent for the majority of the issues we see our patients for, and this is confirmed by scientific studies confirming its effectiveness across a broad spectrum of conditions.  However, we do know there are times when it needs to be supplemented with an in-clinic approach.  The unfortunate arrival of COVID-19 has meant that we need to be strictly aware of the safety of our patients and team, this is why we are doing as many 'non-contact essential' appointments by Telehealth as possible. 
However, we do know there are times when it needs to be supplemented with an in-clinic approach.  During your initial appointment, your therapist will work with you on what your therapy moving forward will look like.  If you decide together that an in-clinic appointment is required, that will be arranged.  
How do I access it?
Accessing the service is easy.  We use two different ways:  The first requires you to click on a link which opens an internet browser and then once you have registered your name and phone number you will be directed to our virtual waiting room where your therapist will pick up your call.
Otherwise, we have a program called Physiapp which is an app that is downloaded to your phone or tablet.  Your therapist will send you your individual access code and you pop that in the app with your year of birth.  Easy! 
Whichever method you use, your consultation is conducted over a secure video channel – you can see your therapist, and they can see you.  Your therapist can assess your range of movement, give and watch you perform your exercises and offer advice and suggestions – just as they would in the clinic.  You would be surprised at the box of tricks they have to mimic hands on therapy too – don't think that you will miss out on your 'hands on' therapy as we can replicate the majority of things we do in the clinic simply and quickly.  Any exercise program that your therapist creates for you is sent directly to your phone and you can message your therapist directly if you have any questions.
Where do I start?
If you would like a Telehealth consultation with our physiotherapists or exercise physiologist, please call our clinic on 38053223, or email us though the contact form below.
Is it covered by my health fund?
The threat of COVID19 has led to rapid changes in the acceptance and use of Telehealth.  We are now able to bulk bill under Medicare if you have a Team Care Arrangement, it is approved for DVA patients, a large number of private health insurers are offering rebates for Telehealth (pls enquire with your fund), and we are authorised to use Telehealth for Workcover Qld and Third Party insurance patients.