What is Telehealth?
Providing a more accessible approach to your healthcare, our telehealth service is a new way to deliver and facilitate patient care. Rather than attending our clinic, your appointment with our team is conducted via online video.
Telehealth appointments enable our team to provide high quality care if our patients are unable to travel, have a compromised immune system or are NDIS participants.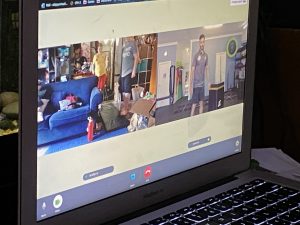 Is telehealth a good option for everyone?
Telehealth is an excellent alternative for many of our patients. It also works very well when supplemented with an in-clinic approach.
Joining your physiotherapist or exercise physiologist for a telehealth appointment is simple. If you can use google, you can participate in telehealth! During your telehealth appointment, we'll show you how to use a variety of tools you have at home to achieve the same, if not better in-clinic results.
How does the video consultation work?
Your consultation is conducted over a secure video channel where you can see your therapist, and they can see you. Here, your therapist will assess your range of movement and give you exercises to perform. They'll carefully watch you performing each exercise and will offer their professional advice and suggestions – just as they would in the clinic.
You might even be surprised by the box of tricks our team have to mimic hands-on therapy. That's right, we're very good at replicating the majority of our in-clinic practices, simply and quickly. Any exercise program that your therapist creates for you is then sent directly to your phone. You can also message your therapist directly if you have any questions.
Is telehealth physiotherapy covered by health funds or other programs?
The threat of COVID-19 has led to rapid changes in the acceptance and use of Telehealth.
A large number of private health insurers are now offering rebates for telehealth consultations – please enquire with your fund for further details. We can also bulk bill under Medicare if you have a Team Care Arrangement (TCA).
Telehealth appointments are also approved for DVA patients and we're authorised to use telehealth for Workcover Qld and third party insurance patients.
Accessing our telehealth physiotherapy service is simple
Once you've made your appointment with our receptionist, they'll talk you through the process of getting ready for your telehealth consultation. From here, there are two ways to access our telehealth service.
1. Click on this link. Once you've registered your details, you'll be directed to our virtual waiting room where your therapist will pick up your video call.
2. Download the Physiapp app to your smartphone or tablet. Before your appointment, your therapist will send you an individual access code for you to enter, along with your birth-date. Once entered, you'll be connected directly with your therapist. Easy!
You can also watch this video for a step-by-step tutorial.
Ready to book your telehealth consultation with our team?
Meet our team