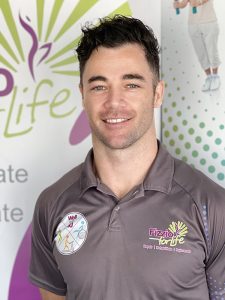 Helping people achieve their health goals through exercise, Josh has over five years of experience in exercise physiology. Throughout his career, he's worked with many different injuries and health conditions with both patients and across many government initiatives, including Medicare, NDIS, DVA and WorkCover.
Patient and empathetic, Josh genuinely cares about the long-term well-being of his patients. Skilled in adapting an exercise to suit his patient's individual needs and goals, he's also able to gauge when they're ready to safely progress.
A typical day for Josh revolves around using exercise and movement to help people achieve a better quality of life. This could be in the gym, at the park, developing in-home programs, or conducting telehealth appointments. You'll also find Josh helping patients at the in-clinic gym, at external gyms, and at hydrotherapy classes at the local pool.
Motivated by helping people work toward their functional movement goals and recover from injuries, Josh feels ultimately rewarded when a patient begins to see results and he can see how proud of themselves they are. He loves working with the Fizzio For Life team, which encompasses a positive and enjoyable vibe, every day.
A keen sportsman, Josh himself has suffered from a range of injuries, including a ruptured ACL and torn meniscus from playing touch football. This, in fact, is what sparked his interest in rehabilitation exercise. Having experienced injuries himself, Josh gets that the recovery process is long and knows that the best strategy is to be consistent with your exercises and remain positive.
Outside of work, Josh enjoys being active and keeping fit. Walking the talk, he knows that if he's dishing out advice on exercise, he needs to be doing it himself! Whether he's outdoors on an adventure, playing rugby, at the beach, hiking or exploring new territory (hello new cafes and bars), you'll find Josh at his happiest.
Featuring at number one on his bucket list, Josh wants to see as much of the world as possible; a goal which fits nicely into his personal motto, if it doesn't challenge you, it doesn't change you. A humble, yet talented artist, Josh hopes to one day dedicate more time to his drawing.
Josh holds a Bachelor of Clinical Exercise Physiology, is an Accredited Exercise Physiologist and is an Exercise and Sports Science Australia Member (ESSAM).