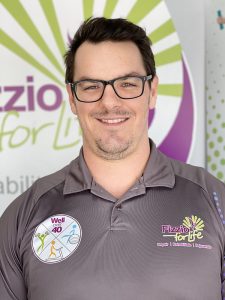 With over five years of experience as an exercise physiologist, Nathan is passionate about helping people achieve their health and fitness goals. Whether you need to get back to work or the sport you love, Nathan provides tailored exercise programs to help you on your path to a healthier and happier life.
Compassionate and fun, Nathan's priority is to help you to do the things you love. He thoroughly enjoys engaging with and supporting our NDIS participants, is focused on strength and conditioning exercise for athletes returning to sport, and is especially interested in treating neurological conditions such as Parkinson's disease.
At his happiest when witnessing patient wins and success, Nathan is driven by the satisfaction of helping people to relieve pain and achieve milestones they thought were not possible. Developing a personalised exercise and movement program to suit your capability, Nathan provides you with unwavering care and encouragement. His extensive knowledge around exercise enables him to assist you in your recovery, rehabilitation or chronic disease management.
In his downtime, you'll find Nathan playing or watching sport, spending time with family and friends, drinking coffee, listening to podcasts and always hungry (yes, truth!). He loves being outdoors, in the sun, exploring nature or out on the water. Proficient at riding a bike with his dog on the lead (no catapulting over the handlebars here), Nathan dreams of watching an AFL grand final live at the MCG or Liverpool playing at Anfield.
A massive sports fan, Nathan loves AFL, cricket, football, rugby, basketball and American football. Having fractured his ankle playing AFL and experiencing post-surgery complications, Nathan knows how quickly life can change. He also has a deep insight into what it takes to recover from an injury and the importance of moving as soon as you can.
Nathan holds a Bachelor of Exercise Physiology and Bachelor of Business (Accounting). He is an Accredited Exercise Physiologist, Accredited Exercise Scientist and is an Exercise and Sports Science Australia Member (ESSAM).