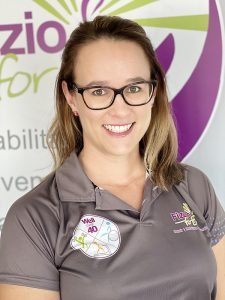 With over six years of experience as an exercise physiologist, Kerryn loves helping people to improve their health so they can live their life to the fullest. Whether that be returning to sport, managing a chronic condition or simply being able to get up and down to play with grandchildren, Kerryn genuinely cares about her patients' well-being.
With a focus in the areas of occupational rehabilitation, chronic disease rehabilitation and group exercise classes, Kerryn is dedicated to helping our local community live a healthy and active lifestyle. Having completed additional training in cancer/oncology rehabilitation, Kerryn is passionate about the role exercise plays in cancer prevention, mitigating the impacts of cancer treatment and survivorship.
Reliable and caring, a day in the life of Kerryn involves meeting with patients to review, prescribe, educate, motivate and progress their physical conditioning programs. She meets with patients in the clinic, in hydrotherapy sessions at the pool and in their own homes.
A creative thinker and problem-solver, Kerryn can think outside the square when faced with a challenge to overcome barriers and find a solution. Meeting people where they are at and listening to their story, Kerryn applies her extensive knowledge to their situation to help them move toward their goals.
Seeing people have fun while exercising makes Kerryn super-happy. After all, looking after your health doesn't have to be a chore. A SUP enthusiast herself, she loves getting out on the water and dreams about bike-packing around Europe with her husband.
If Kerryn was granted one wish and could go anywhere in the world right now, you'd find her lounging by the water after a SUP session, watching her kids play in the sand. When there's no genie in sight, Kerryn's weekends are spent watching her boys play cricket. On a day-to-day basis, Kerryn is constantly feeding her growing children and doing their laundry! It naturally follows that good coffee is a must!
Kerryn holds a Bachelor of Applied Science, Human Movement Studies (Hons), is an Accredited Exercise Physiologist and is an Exercise and Sports Science Australia Member (ESSAM).