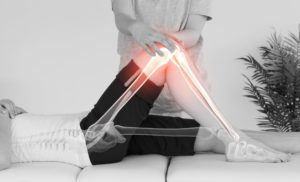 Now that the temperature is plunging have you noticed that your arthritic symptoms are getting worse? We often hear clients saying that cold and rainy weather can make their joints ache more than usual, so if you do then you aren't alone!
Research investigating the association between arthritic symptoms and changes in weather found a relationship between perceived arthritis pain and cold weather.1,3   At present however, the mechanisms for this increase in perceived pain are not understood. Current theories suggest changes in barometric pressure and tissue temperature may be at the root of weather-related increases in perceived arthritic pain.[1]
Whether you think the weather is a cause or not, there are some simple tips to help prevent or manage aches and pains this winter:
Keep your joints warm. A heat pack and warm clothing could do the trick.  You can also purchase special arthritis gloves that can help if you have particularly sore hands.
Exercise!  You might think that it is too painful to exercise, but research clearly shows that exercise is extremely beneficial for arthritis.  You could start with some gentle indoor exercises. Something as simple as marching on the spot, can help to keep arthritic knees and hips warm and moving.  Hold on to your kitchen bench or the back of a chair if you are concern about your balance.  Start small and work up as your strength grows and seek advice from an exercise physiologist if you are unsure where to start.
Go for a walk at your local shopping centre – again, start slowly and increase your speed once you have warmed up.
Try aqua aerobics in a heated pool. Call your local swimming pool and ask if they heat their public pools. The warmth and the support from the water can be great for painful, arthritic joints.  (Our hydrotherapy classes are held at Gould Adams Pool on Tuesdays and Fridays)
Although physiotherapy can't cure your arthritis, you can still get some relief from releasing muscle tension and spasms as your body tries to protect you from chronic pain. Some gentle mobilisations and stretches can help with this. Check with your GP if you qualify for a referral under Medicare if you have chronic arthritis symptoms.  You might also try some gentle Myotherapy treatment.
Try and control your weight – 250 grams of extra weight creates approximately 1 extra kilo of pressure on your knee joints due to our body structure.[2]
Much of the recent research has shown that exercise – that is, the right kind of exercise – is the most effective treatment for arthritis.  At Fizzio for Life and Well over 40, we understand the benefits of exercise and offer weekly indoor group exercise classes and hydrotherapy classes run by university qualified exercise physiologists who are uniquely qualified to give you safe and effective advice based on scientific research.
Please contact us to enquire about class times and booking. You can also call to organise a one-on-one session with one of our physiotherapists or exercise physiologists.
[1] www.ncbi.nlm.nih.gov/pubmed/26329341
[2] Arthritistoday.org
Want more information?