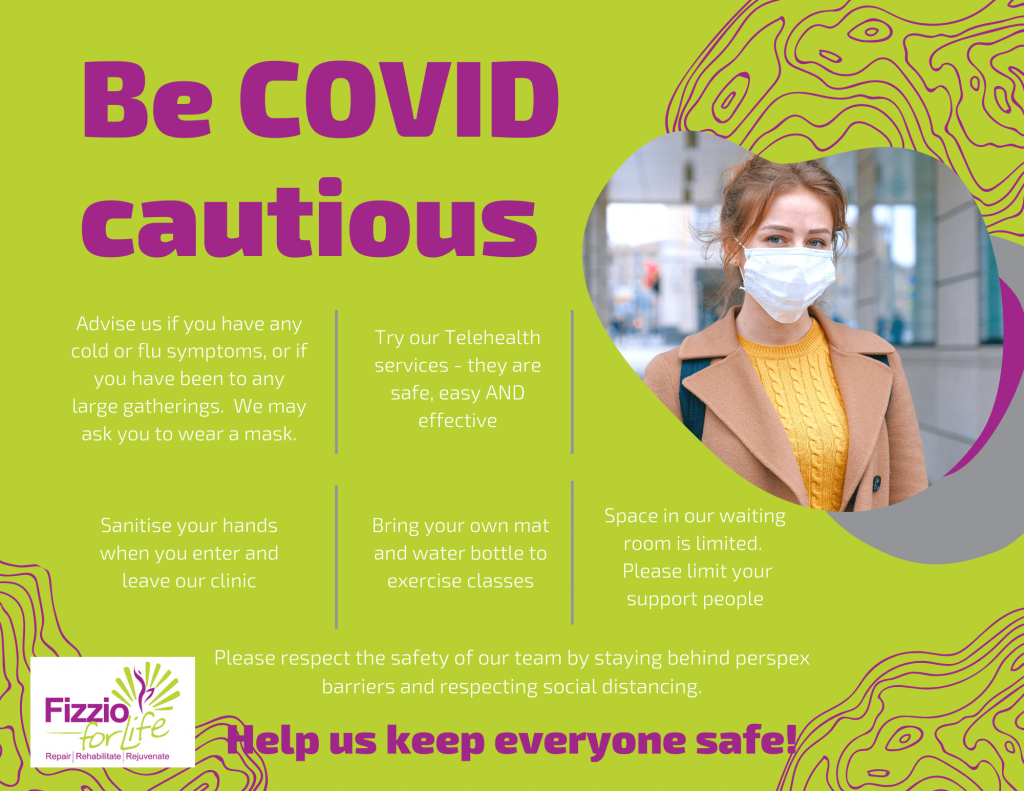 At Fizzio For Life we are taking COVID-19 very seriously.  We have a plan to keep our patients and staff safe.  We are:
regularly disinfecting our clinic and equipment.
using Telehealth where possible for people that are vulnerable or at risk
limiting our class sizes
practising rigorous hygiene
limiting our waiting room numbers
screening all our patients
And, our team have all completed COVID-19 infection training.
But our safety relies on the actions you take too!
If you have any cold or flu symptoms, no matter how mild, please advise our staff so we can make alternative arrangements for your care.  It doesn't mean you will miss out – we can easily change your appointment to a Telehealth one instead, to a different time, or it may be enough that yourself and your therapist will wear a mask.
Please also attend a COVID Respiratory Clinic for testing – our closest one is at Shailer Park. You don't need a doctor's referral just call 34454050 to make an appointment or book online.  Queensland Health ask us all to be vigilant and be checked for any symptoms so that we can make sure that what is happening in Victoria hopefully doesn't happen here.
If you have recently returned to Australia, attended any mass gatherings such as large church services, the football, or attended some higher risk venues such as a nightclub, we ask you to protect our staff and other patients by letting us know.  We may just ask you to wear a mask for your appointment.  See the picture for more ways you can help.
With your help, we can keep our team and other patients safe!