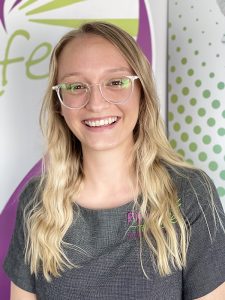 Caring and friendly, Mickayla is your first port of call if you have a question about your treatment. Ensuring that our team is consistently providing high quality care, Mickayla's number one priority is to ensure our patients are happy.
Always checking in to ensure each patient enjoys a stellar experience, Mickayla cares deeply about our patients' outcomes. Working closely with our NDIS patients, she is extremely compassionate and supportive.
Playing an invaluable role within the clinic, Mickayla is adept in time management and possesses Marie Kondo-like organisational skills (truth!). Methodical in ensuring that each NDIS patient's paperwork is up-to-date, Mickayla also gains immense satisfaction out of the knowledge that our team has helped make a significant difference to patients' lives.
If Mickayla owned a teleporter, in a click of her fingers she'd be on the beach with her dogs, no questions asked. She loves to travel (anywhere and everywhere), enjoys wakeboarding and delights in visiting her family up north. As a child, Mikayla dreamt of being a bank teller, believing they got to keep all the money people gave them (if only!).
Always here to help, Mickayla will liaise with your therapist, GP or third-party case officer, ensuring you have access to the entirety of services that will progress your care.