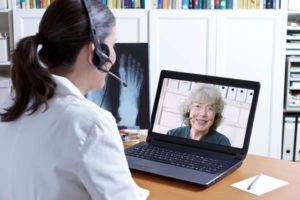 COVID-19 is spreading quickly in our country.  As a clinic we feel that we have an obligation to keep both our community and team as safe as possible.  We have made the drastic and extremely difficult decision that we will be severely limiting our face-to-face contact with patients.
What we are doing:
Moving as many patients to Telehealth – 'Physio by video' and 'Exercise by video' – as possible to remove risk to patients and staff in clinic
Disinfecting after every patient – waiting room chairs, door handles
No contact zone around reception area
Minimising contact where possible.  Your appointment may be less 'hands on' than you are used to, for your protection and ours. It may also be shorter.   Forms will be delivered online.  Signatures will not be required, and no cash will be accepted.
In the case of any face to face contact, our therapists will be masked and wearing gloves.   Unfortunately we do not have the N95 masks, which are the standard for this virus, but feel that this is a necessary precaution for our clinicians.
Classes at Well Over 40 will be suspended from Monday 23rd March.  We are making arrangements to continue as many classes as we can via Telehealth. We will be in touch with you asap about what that looks like.  Some trial classes may be held this week.
What we are asking from you:
IF YOU DO HAVE A FACE-TO-FACE APPT BOOKED, PLEASE CANCEL YOUR APPOINTMENT – if you or someone close to you is sick (including children) with ANY ILLNESS or if you have travelled within the last three weeks, particularly overseas, OR if you share a living space with someone that has.
Practice social distancing
Patients to please text on arrival and wait in vehicle until therapist is ready.  We will text you or get you when it is time to come in.
Transition to online forms.
Every patient to use hand sanitiser before and after every session.
Every patient to use sanitiser before and after session.
Moving forward: 
Please make sure you have liked our Facebook page.  Over the next week weeks and months we will be bringing you a lot of support, free content, health updates etc.  It's important that we try and keep our community together and offer what ever help we can.
Public health systems will be overloaded with patients needing critical care and ongoing care from the effects of this pandemic.  We can provide safe and effective treatment for you over Telehealth – we are investing heavily in staff training to ensure that the impact of changes to our delivery is minimised, relevant and effective for your needs.
Limited home visits may be available for existing patients, depending on circumstances.