Next Steps is a group exercise oncology program for men and women who want to take the next steps on their road to recovery from cancer after finishing treatment.
The Program combines the best pilates, yoga and cardiovascular exercises for a workout that is specifically designed to help rebuild strength, flexibility and stamina.
The program runs for one hour per week for ten weeks and is specifically designed to help people affected by cancer. It is suitable after any type of cancer surgery or treatment and accommodates all ages, fitness levels and mobility.
The program is delivered by certified PINC & STEEL Cancer Rehab Physiotherapists and each class combines strength, flexibility and cardiovascular exercises for improving your health and fitness. Weekly take-home resources and exercise handouts are included.
What will Next Steps do for you?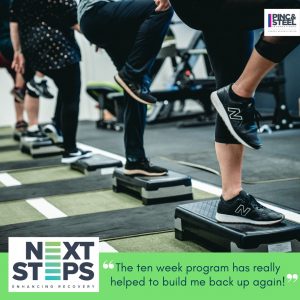 Improve strength and mobility
Increase energy levels
Strengthen core muscles and improve posture
Reclaim body confidence and control
Reduce treatment related side-effects
Improve stamina and fitness
Improve breathing and reduce stress
Help you to integrate regular exercise into your life
Allow you to laugh, relax and have fun
Connect with other people on a similar journey to you
Learn to live well
Your PINC & STEEL Cancer Rehab Physio will guide, support and encourage you through each NEXT STEPS class. They will adapt exercises within each class to suit your individual needs. The classes can be started at any level of fitness as the periods of exercise and rest are adapted as fitness, strength and stamina improve. Each session finishes with a yoga relaxation sequence to restore a sense of calm and confidence, and includes an opportunity to reflect on your journey and be inspired by your own progress.
NEXT STEPS benefits participants whether they attend one week or 10 years after their cancer treatment.
How much does it cost?
The 10 week program is delivered free to participants as it has been subsidised by PINC&STEEL fundraising. There is a small upfront cost of $30 for our therapy team to complete your initial assessment before joining the program.
Want to join?
The class will run for 10 weeks from the 22nd April, Thursdays at 2pm. There are only 10 people able to attend and due to time limitations we request that you book an initial assessment before the 15th April. You will just need a water bottle, a towel and a yoga mat.
To join the class, please register directly with PINC&STEEL here. Once you have registered we will be in touch to organise your initial consultation.
Timing not right?
At Fizzio for Life, we are proud to be able to offer our local community cancer rehabilitation services such as our CANMove class subsidised by Logan City Council, our PINC Breast Cancer trained physiotherapist, and our exercise physiology team. If you'd like more information please visit our page here.