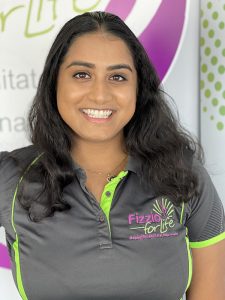 Maathangi, or "M" as we affectionately call her, has over four years of experience working as a physiotherapist in both private practice and occupational health. Bubbly, honest and compassionate, Maathangi is dedicated to providing holistic care to her patients. Looking further than simply managing a condition, Maathangi will look further into each patient's individual needs, concerns and future health goals.
Very personable with an eye for detail, Maathangi takes an active, evidence-based approach with her patients. She cares for a wide of range of people and conditions, from pre- and post-surgical management through to musculoskeletal and sporting injuries. She is also competent in dry needling and clinical Pilates.
A day in Maathangi's week will always begin with a hot cup of tea before she heads into work. Once here, her typical routine consists of assessing and treating patients, setting and helping them reach their goals as well as running clinical Pilates classes twice a week. Phew! Inspired by the people she works with, Maathangi is driven by the satisfaction she gets helping patients. Oh, and cake. She loves cake.
Hitting the gym after work, followed by dance practice at the Nadananjali School of Dance, Maathangi will then go home to spoil her two (very cute) kittens.  And on weekends? You'll find her hiking, dancing, playing board games, Dungeons & Dragons and relaxing with her friends.
If Maathangi could click her fingers and go anywhere in the world, it'd be Milford Sound in New Zealand. And her number one bucket list to-do is to visit all the Wonders of the World, with the Inca Trail to Machu Picchu placed at number one.
With childhood hopes of once being a tree fairy, when Maathangi realised this was an unlikely career path, she pursued her dancing dream. A classical Indian dancer for over 20 years, Maathangi has experienced a range of injuries, from ankle sprains and cartilage tears through to tendinosis. Also suffering from whiplash in her early 20s, Maathangi understands the importance of seeking early physiotherapy treatment as well as continued self-management and exercise.
Maathangi holds a Bachelor of Physiotherapy (Honours) and is currently completing extra professional development in the area of ankle and foot injuries in dance.