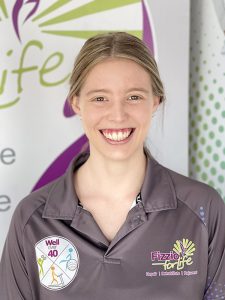 Compassionate and caring, Emily is dedicated to helping people achieve their health goals and improve their quality of life. Taking an evidence-based, problem-solving approach, Emily provides comprehensive assessments and detailed treatment plans for her patients. Treating people with acute injuries, persistent pain and disabilities, Emily also visits patients in their homes.
Seeing patients return to the activities that they love and achieving their goals is the number one aim for Emily. Second to this, Emily thoroughly enjoys working within the Fizzio For Life team. And a close third is her love of cake.
On a typical day, Emily will start her morning with coffee, then exercise which may include a gym workout, running, surfing or yoga. Active and adventurous, on weekends you'll find her at the beach surfing or camping with friends. The number one ticket on her bucket list is to skydive and if you have a question on marine animals, she's your go-to for random facts.
As a child, Emily dreamt of becoming a vet, but this all changed after she completed work experience with a physiotherapist in Year 12. Having experienced neck pain, headaches and migraines throughout her childhood, Emily learnt that the stronger she became, the less frequent the pain. Understanding this firsthand gives Emily the insight to help patients minimise, manage or eradicate pain, dependent on the assessment.
Emily holds a Bachelor of Physiotherapy (Honours), has completed a placement in Timor-Leste and has a keen interest in international public health.