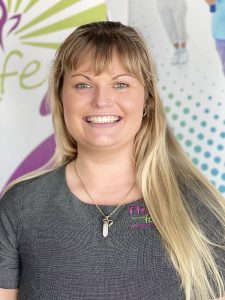 Friendly, kind and always positive, Alyse greets our patients as they arrive at the clinic. Making you feel instantly welcome, Alyse is our resident 'glass half full' team member (yes, everyone needs an Alyse).
A busy bee, you'll also find Alyse booking patient appointments, answering phones, faxing and ensuring our reception area is perfectly tidy (she has a Mrs Doubtfire passion for cleaning). Getting to know each and every one of our patients, Alyse loves seeing them progress in their treatment and improve their quality of life.
With a background in nursing, disability services and aged care, Alyse is a nurturer at heart. She's also a talented saxophonist and can touch her nose with her tongue (this is a gift). On weekends, you'll find Alyse in the garden and hanging with her husband and two boys. If she could be anywhere (other than work) right now, she'd be sailing the Whitsundays on a yacht. And top of her bucket list? Owning a pet monkey!
Leading an active lifestyle, Alyse understands how an injury can make us realise that we take many things for granted. The queen of positivity, she lives with no regrets and always keeps on keeping on. 
Alyse holds a Cert 4 in Allied Health Services, Cert 3 in Aged Care, Cert 3 in Home and Community Care, a Cert 3 in Disability Services and is a qualified swim teacher.