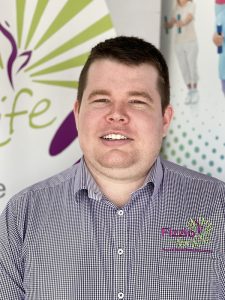 Adam has been part of the Fizzio For Life team for over six years. Intuitive and resourceful, Adam manages our bookkeeping and payroll. He also liaises with our patients, assists front desk and takes care of our diary management.
Applying his exceptional planning and problem-solving skills, Adam is motivated by the team he works with (we may have paid him to say that), the flexibility of his role, and of course, cake (a common theme here at Fizzio For Life).
If Adam could double blink and be anywhere in the world at this very moment, it would be Milford Sound in New Zealand. And the first must-do on his bucket list? Is to cage-dive with sharks.
In his downtime, Adam loves to relax at home with his family and always tries to start his day with an iced latte on his way to work. Exceptionally good at trivia games, Adam believes his 'useless' knowledge may be borderline concerning. But on a serious note, he'd love to live out his childhood dream and get back to playing the drums.
Having worked at a desk for many years, Adam understands the strain this can place on people's shoulders and back, and consistently performs a range of exercises to help improve his posture.
Adam is currently studying his Bachelor of Business, with a major in Human Resource Management.